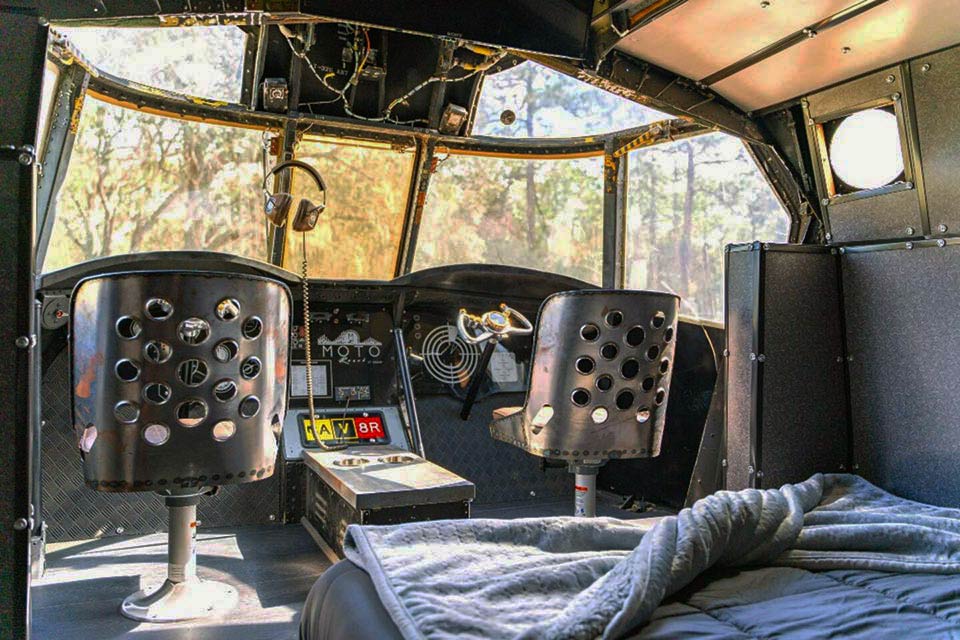 Epic Accommodations:
Step into the cockpit of this massive metal bird, now transformed into a seriously stylish vacation haven. Forget mundane hotels; this bad boy features two snug bedrooms, a full bathroom, a kitchen that Gordon Ramsay would approve of, and a living area that's more spacious than your grandma's garden.
The first bedroom, stationed in the cockpit, boasts a two-person sitting area with views that'll make your Instagram followers jealous. Meanwhile, the second bedroom at the back of the chopper comes with its very own private balcony overlooking the lush forest.
Amenities that'll Blow Your Socks Off:
Worried about sacrificing modern comforts for a unique experience? Fear not! The Chinook Helicopter Vacation Rental comes loaded with all the bells and whistles – WIFI, satellite TV, and air conditioning.
Need to catch some rays or flex your grilling skills? Head out to the sprawling deck equipped with a grill, enough seating to host a mini music festival, and a hammock that's practically begging for your afternoon siesta.
Outdoor Adventures Galore:
Calling all thrill-seekers and nature lovers! The surrounding area is an absolute playground. Whether you're into motorcycles, mountain bikes, 4x4s, hiking, horseback riding, fishing, kayaking, or canoeing – consider this your outdoor utopia. The only thing you won't find here is boredom.
Nighttime Shenanigans:
As the sun dips below the horizon, the Moto Ranch turns into a magical wonderland. Picture this: a fire pit surrounded by good vibes, perfect for sharing laughs with friends or cozying up with loved ones. If you'd rather have a quiet night with the owls and rustling leaves, the serene forest is all yours.
Bird's Eye View:
The Chinook Helicopter Vacation Rental isn't just a place to crash; it's an adventure waiting to happen. If you're the type who craves the outdoors and has a penchant for the extraordinary, this is your ticket to a vacation that's cooler than the flip side of the pillow. So, pack your sense of humor, bring your wild side, and get ready to make memories that are so cool, they might just break the thermometer. Cheers to the Chinook life!