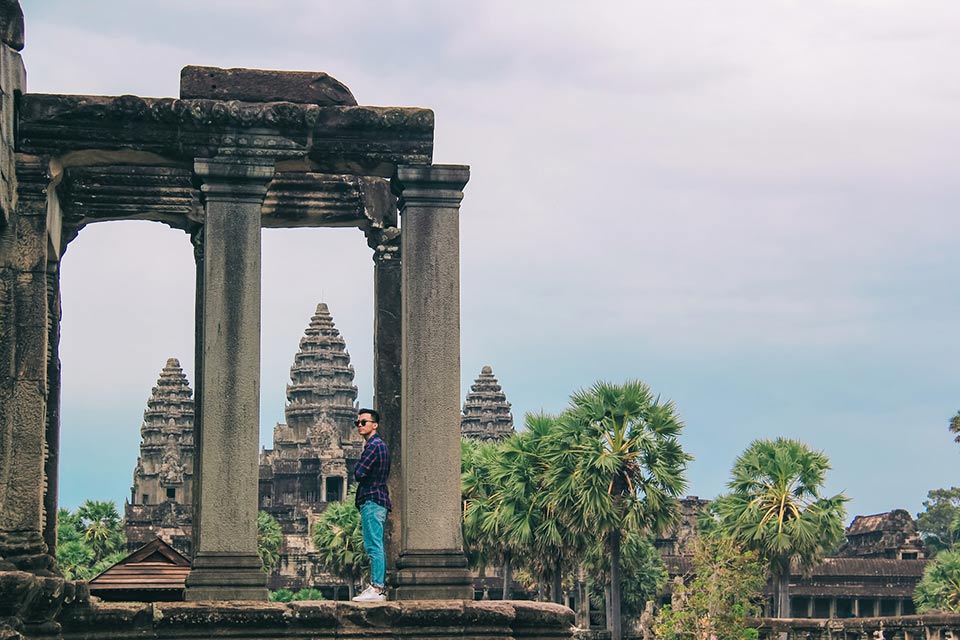 Here are five of the finest budget-friendly travel havens:
Southeast Asia: Pocket-Friendly Paradise
Keyed up for sandy shores, mouthwatering street grub, and friendly faces? Southeast Asia is your jam! This corner of the world offers not only breathtaking experiences but also wallet-friendly accommodations, local delicacies, and adventure galore in spots like Thailand, Vietnam, and Cambodia.
Consider these money-savvy adventures:
Temple Quest: Unearth the beauty of ancient temples and ruins, like Cambodia's Angkor Wat and Indonesia's Borobudur. Many of these gems boast entrance fees as light as a feather.

Jungle Jaunts: Fancy a trek through lush rainforests? Southeast Asia's got you covered with places like Thailand's Khao Sok National Park and Malaysia's Taman Negara National Park. Trust me, these trails won't break the bank.

Floating Market Marvels: Glide through captivating floating markets, like Thailand's Damnoen Saduak or Vietnam's Cai Rang, where everything from fresh produce to souvenirs floats by. It's shopping and sightseeing rolled into one, without the hefty bill.

Beach Bliss: Sink your toes into the sands of exquisite beaches, from Koh Samui in Thailand to Nha Trang Beach in Vietnam or Sihanoukville Beach in Cambodia. Sunburn might be free, but the memories are priceless.
Central America: Budget Adventurer's Paradise
Imagine yourself in Central America, where breathtaking landscapes, diverse wildlife, and the echoes of ancient Mayan civilizations paint the backdrop. Countries like Costa Rica, Belize, and Guatemala not only deliver incredible experiences but also offer budget-friendly accommodations, delectable eats, and thrilling escapades.
Here are a few wallet-friendly suggestions:
National Park Marvel: Central America boasts magnificent national parks, like Costa Rica's Manuel Antonio, Guatemala's Tikal, and Belize's Barrier Reef Reserve System. Many offer reduced admission for students and seniors, which means more money for souvenirs.

Hiking Delight: There's no shortage of captivating hiking trails in Central America. Check out Arenal Volcano National Park in Costa Rica, Semuc Champey in Guatemala, or Cockscomb Basin Wildlife Sanctuary in Belize for a dose of adventure.

Mayan Marvels: Delve into the past by exploring ancient Mayan ruins like Tikal in Guatemala, Copan in Honduras, and Chichen Itza in Mexico. Many of these historic sites offer free or discounted entry for students and seniors.

Seaside Serenity: Enjoy the stunning beaches of Central America, whether you're unwinding on Puerto Viejo in Costa Rica, Ambergris Caye in Belize, or Roatan in Honduras. The beach life here is easy on your wallet.
Eastern Europe: The Budget Backpacker's Hidden Gem
Now, picture yourself in Eastern Europe, a region often overshadowed by tourists with deeper pockets. Countries like Poland, Hungary, and Romania unveil beautiful cities, historic castles, and mouthwatering cuisine that won't break the bank.
Here's the thrifty traveler's guide to Eastern Europe:
Free Museum Hops: Many museums in Eastern Europe offer free admission on specific days or during designated hours. A little research before you go can help you snag these cultural gems without a hefty fee.

City Saver Passes: Take advantage of city passes that grant discounted access to popular attractions. It's a smart way to save money, especially if you plan on touring numerous sights.

Local Gastronomy: Skip the tourist traps and savor the flavors of Eastern Europe at local eateries. You'll relish better food without draining your finances.

Nightlife Revelry: Eastern Europe boasts a vibrant nightlife scene, where you can explore everything from traditional pubs to budget-friendly nightclubs. The best part? Your wallet won't feel the pain.
North Africa: The Budget Explorer's Odyssey
Picture a destination with a unique blend of cultures and landscapes; North Africa fits the bill. Countries like Morocco, Tunisia, and Egypt serve up stunning deserts, ancient ruins, and bustling cities that won't empty your wallet.
Explore these affordable adventures:
Sahara Sensation: Sleep under the stars after a camel trek in the Sahara Desert. It's a once-in-a-lifetime experience that fits your budget.

Ruin Expedition: Discover iconic ancient sites like the Pyramids of Giza in Egypt or the Roman ruins of Carthage in Tunisia.

City Saunter: Walk through vibrant cities like Marrakech in Morocco, Tunis in Tunisia, and Cairo in Egypt. These urban hubs offer a mix of tradition and modernity, where you can explore markets, mosques, and souks alongside shopping malls and restaurants.

Local Cuisine: Savor North African flavors, including tagine, couscous, and shawarma, at local eateries that won't make your wallet cringe.
Bonus Tip for North Africa: Bargain like a pro! Don't shy away from haggling with taxi drivers, shopkeepers, and tour guides – it's the local way.
South America: The Broke Adventurer's Playground
Last but certainly not least, South America offers something for every type of traveler. Countries like Peru, Colombia, and Ecuador are home to breathtaking mountains, lush rainforests, and ancient ruins, all at a fraction of the cost.
Consider these wallet-friendly escapades:
Machu Picchu Magic: Visit the iconic Machu Picchu, where budget-friendly accommodations and local cuisine await in the nearby town of Aguas Calientes.

Rainforest Ramble: Hike through the Amazon rainforest with affordable tours that introduce you to diverse flora and fauna.

Galapagos Getaway: Sail to the incredible Galapagos Islands on a budget-friendly boat tour for a close encounter with unique wildlife.

Party Like a Local: South America's nightlife is buzzing, with options ranging from traditional bars to budget-friendly nightclubs. And the best part? Your drink tab won't break the bank.
So, there you have it, my fellow budget travelers! Armed with these tips and suggestions, you can embark on a remarkable journey without constantly checking your bank balance. Happy travels, and may your wallet stay robust!