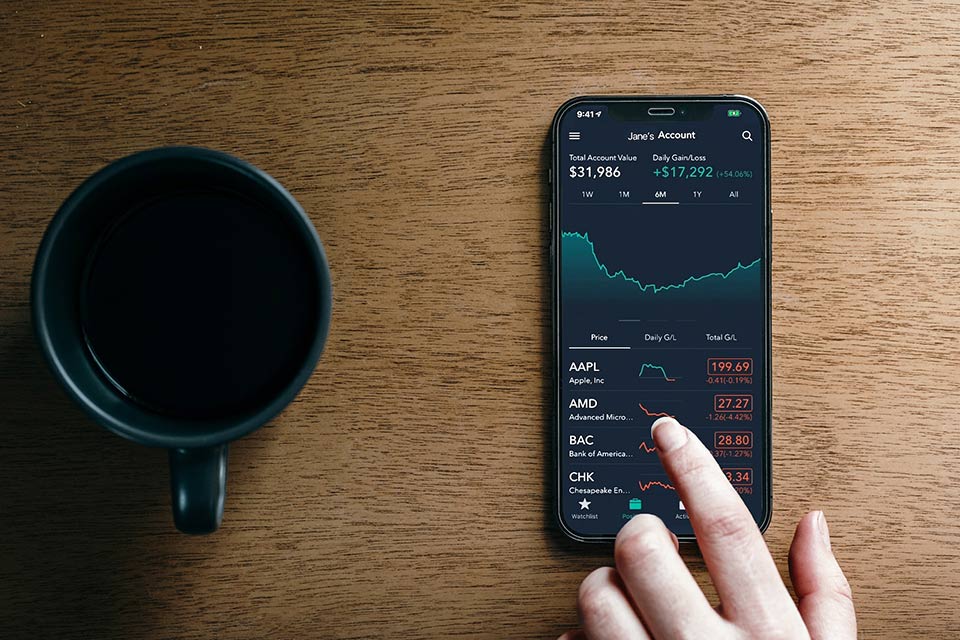 Known for its robust charting tools, commission-free trading, and an assortment of indicators that make your head spin, it's a playground for traders of all stripes, from newbies to trading wizards.
Webull's Feature Fiesta:
Webull offers a smorgasbord of features, including:
Commission-Free Trading: Buckle up, budget-conscious investors! Webull lets you trade stocks, ETFs, and options without shelling out those pesky commissions. Cha-ching!

Fractional Shares: Ever wanted to own a tiny slice of Amazon, but your wallet said otherwise? Webull's got your back. Buy fractions of stocks, no matter the price tag.

Cryptocurrency Craze: Dive into the wild world of cryptocurrencies like Bitcoin, Ethereum, and yes, even the meme-tastic Dogecoin.

Margin Trading: For the adrenaline junkies, Webull lets you play with margin, meaning you can borrow some extra cash to amplify your trading mojo.

Paper Trading: Don't want to risk real money? Practice your moves with Webull's paper trading feature. It's like playing Monopoly, but with financial stakes.

Charting Wizardry: Geek out with an array of advanced charting tools, including over 100 chart types, custom time intervals, and layouts for days.

Indicators Galore: With over 100 built-in indicators and the power to create your own, you'll be swimming in data.

Technical Analysis Playground: Dive into the deep end of technical analysis with drawing tools, trendlines, and harmonic patterns that would impress a math wizard.

Alerts, Alerts, Alerts: Never miss a beat with customizable price and technical alerts that keep you in the know.

Community Connections: Join the ranks of the Webull community, where traders swap ideas and strategies. It's like a virtual trading coffee shop.
The Good Stuff:
Commission-Free Trading: Webull's commission-free trading is a godsend for budget-savvy investors.
Fractional Shares: Even a shoestring budget can get a piece of the action.
Crypto Craze: Join the crypto party from the comfort of your Webull account.
Advanced Charting Tools: Perfect for those who like to get their hands dirty with technical analysis.
Community Power: Learn from the best by tapping into a vibrant trading community.
The Not-So-Great Stuff:
Customer Support Limbo: Webull has a track record of elusive customer support, making it feel like you're chasing a unicorn when you need help.
Outages and Trading Tightropes: Webull has seen its fair share of outages and trading restrictions, causing headaches for traders in the midst of the action.
The Verdict:
Webull is a tempting playground for traders of all levels, offering commission-free trading, advanced charting tools, and a lively trading community. But be warned of the tricky customer support maze and the occasional trading tightrope walk.
Is Webull Your Financial Soulmate?
The million-dollar question: is Webull your financial knight in shining armor? It all boils down to your unique needs and trading dreams. If you're craving a robust trading platform with all the bells and whistles, including commission-free trading and advanced charts, Webull might be your match. However, if you value top-notch customer support or are wary of potential outages, you might want to scout out other brokerage options. Here are a few alternatives to consider:
Fidelity
Charles Schwab
Vanguard
TD Ameritrade
E*TRADE
These options offer more reliable customer support and are less likely to leave you hanging during critical trading moments. Just remember, they might charge some commission fees, so weigh your priorities wisely, financial trailblazers!