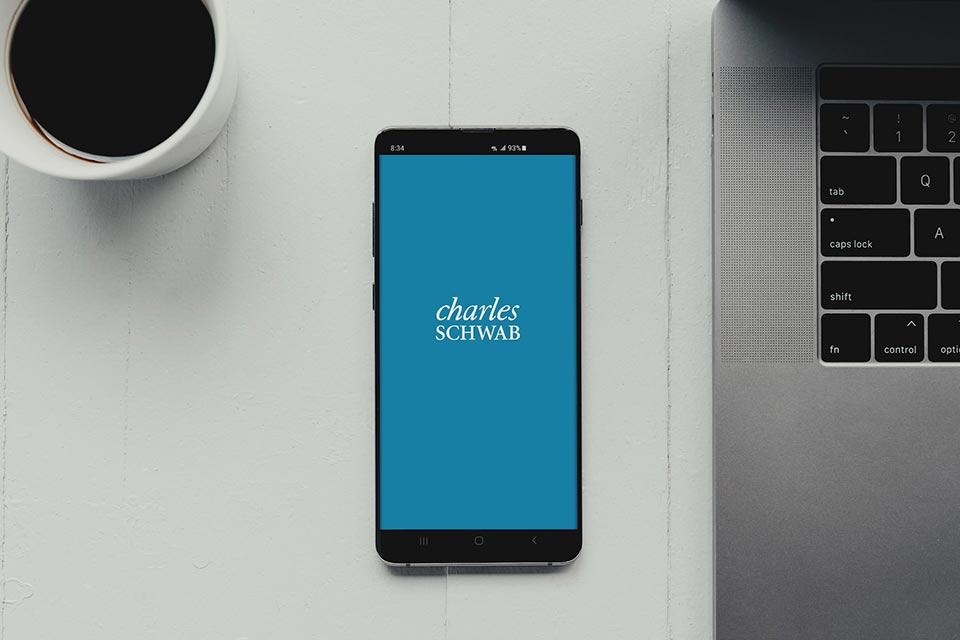 The Schwab Trading Platform: Your Trading Sidekick
Schwab's trading platform is your trusty sidekick for the trading adventure. It's like having Batman's utility belt but for financial maneuvers.
Features Galore:
Let's talk features, shall we? Schwab's trading platform boasts an array of impressive tools, including:
Commission-Free Trading: The Holy Grail for frugal investors! Schwab doesn't charge commissions on trades for stocks, ETFs, and options. Perfect for the frequent traders and budget-conscious investors among us.

Fractional Shares: Ever wanted a piece of that pricey Amazon stock without breaking the bank? Schwab lets you buy and sell fractional shares, making it possible to invest in any stock, regardless of its price tag.

Cryptocurrency Related Trading: Join the crypto craze! Schwab lets you trade popular cryptocurrency ETFs and Futures. You can link eToro to trade cryptocurrencies like Bitcoin, Ethereum, and even the quirky Dogecoin.

Margin Trading: For the seasoned traders looking to kick it up a notch, Schwab allows you to trade on margin, giving you the power to borrow money for more securities.

Paper Trading: Test the waters without getting wet! Schwab's paper trading feature lets you practice your trading skills risk-free.

Advanced Charting Tools: For the analytical minds out there, Schwab's platform offers a dazzling array of advanced charting tools, including over 100 chart types, custom time intervals, and multiple chart layouts.

Indicators: Geek out with over 100 built-in indicators, and if that's not enough, create your very own custom indicators.

Technical Analysis Tools: Schwab provides a treasure chest of technical analysis tools, including drawing instruments, trendlines, and those mystical harmonic patterns.

Alerts: Stay in the loop with price alerts and technical notifications, so you never miss a trading opportunity.

Research and Education: Dive deep into your investments with Schwab's research and education tools, offering analyst reports, stock screeners, and enlightening educational webinars.
Pros:
Commission-Free Trading: For the budget-savvy trader, Schwab's commission-free trading is a godsend.
Fractional Shares: Access to expensive stocks is no longer a dream.
Cryptocurrency ETF Trading: Join the crypto revolution right from your Schwab platform through ETFs and Futures.
Margin Trading: A useful tool for the seasoned trader.
Paper Trading: Practice makes perfect.
Advanced Charting Tools: Dive into in-depth technical analysis.
Indicators and Technical Analysis: For the chart enthusiasts.
Alerts: Stay on top of your game.
Research and Education: Empower yourself with knowledge.
Reliable Performance: Schwab's platform is known for its solid performance, with few technical hiccups.
Cons:
Limited Customer Support: Schwab has a bit of a reputation for less-than-stellar customer support, making it a tad challenging to get the help you need.
In a Nutshell:
Charles Schwab's trading platform is a versatile powerhouse suitable for traders of all stripes. With its diverse array of features, including commission-free trading, fractional shares, cryptocurrency ETF trading, margin trading, paper trading, advanced charting tools, indicators, technical analysis capabilities, alerts, and robust research and education offerings, it's a formidable choice.
However, do keep in mind the potential for less-than-stellar customer support. If top-notch customer service is non-negotiable for you, it might be worth considering other options.
Is Schwab's Trading Platform Right for You?
The million-dollar question: is Schwab's trading platform your financial soulmate? Well, that depends on your unique needs and trading ambitions. If you crave a potent trading platform with a buffet of features, including commission-free trading, fractional shares, cryptocurrency ETF trading, and more, then Schwab's platform could be your match made in heaven. However, if exceptional customer support is your top priority, it might be worth exploring other brokerage options. Happy trading, financial adventurers!